TReNDS in Conversation on the Role of Earth Observation and Gridded Population Data Monitoring for Sustainable Development
Written by Alyson Marks
"If we want to help people, we need to know where they are. If we want accurate maps, we can't rely on our best guess." – Vince Seaman of the Gates Foundation during his keynote address on the importance of gridded population data
Earlier this month, TReNDS joined partners at the second annual Human Planet Forum, hosted by the Center for International Earth Science Information Network (CIESIN), the European Commission, Joint Research Centre (JRC), and the Group on Earth Observations (GEO), to explore issues related to earth observation and population data for sustainable development. The conference brought together a diverse range of stakeholders from within the data community, including government officials, civil society organizations, academia, and international organizations with the shared objective of increasing cross-collaboration and harnessing new data sources, technologies, and analytical approaches to improve understanding, modeling, and tools for decision making in support of the Sustainable Development Goals (SDGs).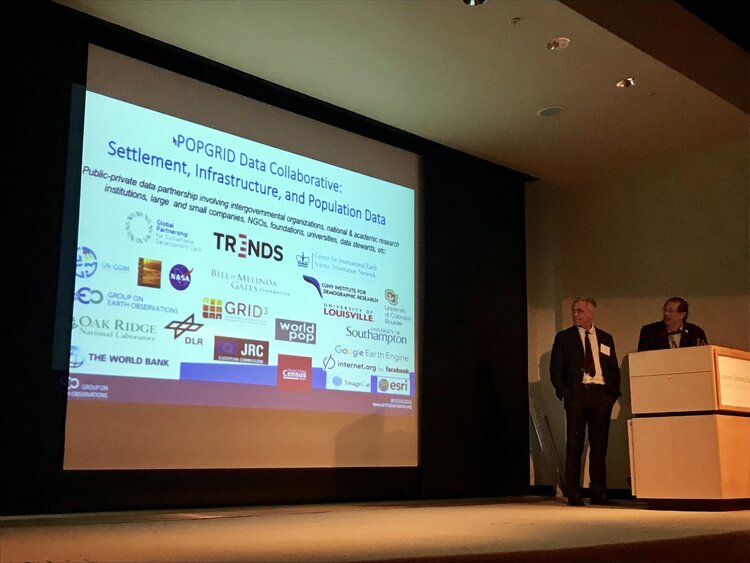 Source: Maryam Rabiee/SDSN TReNDS
The Forum featured a number of intriguing keynotes, lightning talks, and roundtable discussions on emerging data topics, including advances in slum mapping, mapping of secondary and tertiary administrative boundaries, and validation and intercomparison strategies for human settlement and population data.
Source: Alyson Marks/SDSN TReNDS
During the Forum, TReNDS presented on the POPGRID initiative and co-hosted a discussion with the Global Partnership for Sustainable Development Data (GPSDD) on how to best communicate the value of gridded population data products to policymakers. Some insights from the session include the following:
• Data shortcomings and scale are important to communicate. Attendees stressed the importance of understanding spatial resolution and scale (i.e is the estimate provided derived from 3m or 30m imagery) to have a sense of its accuracy, coverage and comparability across countries.
• Data from less familiar sources can present challenges for policymakers because of the level of uncertainty and trust. There can be uncertainty and variability both within and between the population data products because each country often only uses its own products.
• How the data is presented is critical. Data products are frequently oversold to policymakers. For instance, an organization may overestimate a population count to receive more donor resources.
• Countries need to be made aware of the wide range of data products available.
The TReNDS' session also underscored the importance of informed use of gridded population data, from theoretical research to applied fieldwork. Dana Thomson, a PhD student at the University of Southampton, presented on her use of gridded population data for informing survey design in developing countries, and Cascade Tuholske, a PhD student at UC Santa Barbara, presented on the implications of population dataset selection in his research area of urban climate change adaptation. Additionally, Derek Azar, a Senior Survey Statistician at the U.S. Census Bureau, presented on how the Bureau is working with National Statistical Offices (NSOs) to help them digitize their population boundaries, which is vital to generating data to input for gridded population models. 
More on the value of Earth Observation for the SDGs
For more information on the POPGRID initiative, click here or email Maryam Rabiee, SDSN TReNDS' Manager, at Maryam.rabiee@unsdsn.org.